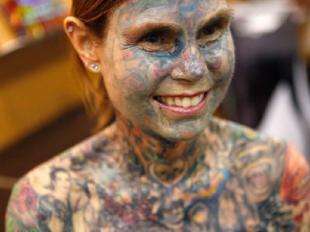 If you are a tattoo fanatic, you should know Julia Ginas.
Julia Ginas from California was officially identified by the Guinness World Records as the most tattooed woman in the world.

95% of her body's skin is covered with a variety of tattoos. It is reported that Julia had a metabolic disorder at first, which caused her legs to be exposed to the sun, otherwise it would be stinging, so Julia began to tattoo from the legs and blocked the sun through tattoos. Unexpectedly, the disease gradually shifted to the stomach and hands, and Julia's tattoo area gradually expanded, until now 95% of the body's skin is tattooed. This pattern is also of great artistic value.

She may be the longest person in the world to experience a tattoo bed. I really want to know if she is very excited, waiting, excited when she waits on the tattoo bed. If she does not have this disease, will she love tattoos so much?
what about you? Have you had any experience with tattoos? Tell me about your fun about tattoo beds!