Dongpin

rehabilitation treatment equipmen

t reminds you that 2019 has passed 80%. How many goals did you set before the year?
Let\'s first take a look at what Dongpin did in 2019 to promote the company\'s development.
1.28-1.31 participated in the Dubai Medical Exhibition and gained a lot of new inspiration for creation.
2.24-2.26 Dongpin Annual Summary Meeting, clear goals, and strive to achieve success.
3.4-3.31 Ali\'s March New Trade Festival, the completion of the ISO13485 medical qualification certificate.
5.14-5.16 Shanghai Medical Equipment Exhibition CMEF constantly develops its own shortcomings and strengthens the product.
During the period from June to July, the company\'s new plant started construction, self-precipitation, and research and development of new products.
8.15-8.30 Business elites visit the United States and explore the medical industry.
9.4-9.30 Ali Super September purchase festival, Dongpin implemented a period of beauty to open.
10.5- 10.30 Business elites visited Europe to explore the mysterious country of the medical industry.
10.15 Dongpin\'s US overseas warehouse was formally established. Customers of US retail can purchase Dongpin physiotherapy beds at any time.
11.13-11.14 Hong Kong Asia-Pacific Beauty Show, I look forward to your visit and guide Dongpin\'s continuous improvement.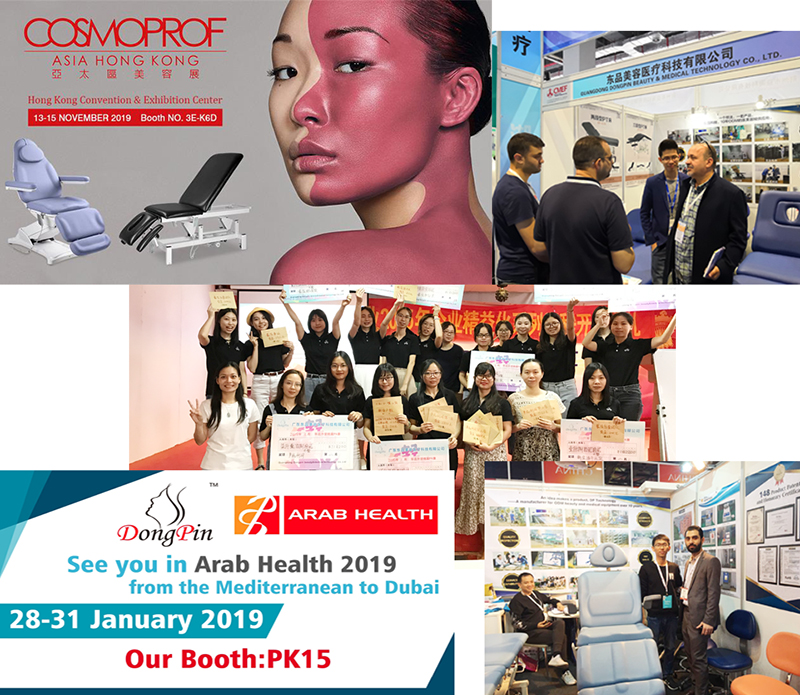 Less than 20% of the rest, soon to Halloween, Christmas.
Friend, do you know that you have a very important thing not done? That is to place orders for Dongpin\'s partners!
At the end of the year, the order volume has increased. All dealers want to receive the goods before Christmas. After Christmas, they can deliver orders to your customers on time. You are ready to make production plans in advance.
American retail friends, if they also want to buy Dongpin\'s rehabilitation treatment equipment,

rehabilitation treatment

beds as soon as possible. Be sure to keep an eye on our website. More preferential information will be announced on this website for the first time.
Finally, I wish everyone a 2019 without regrets, come on!