Physiotherapy improves the quality of your life. The restorative remediation promotes and
maintains one's functional ability and movements.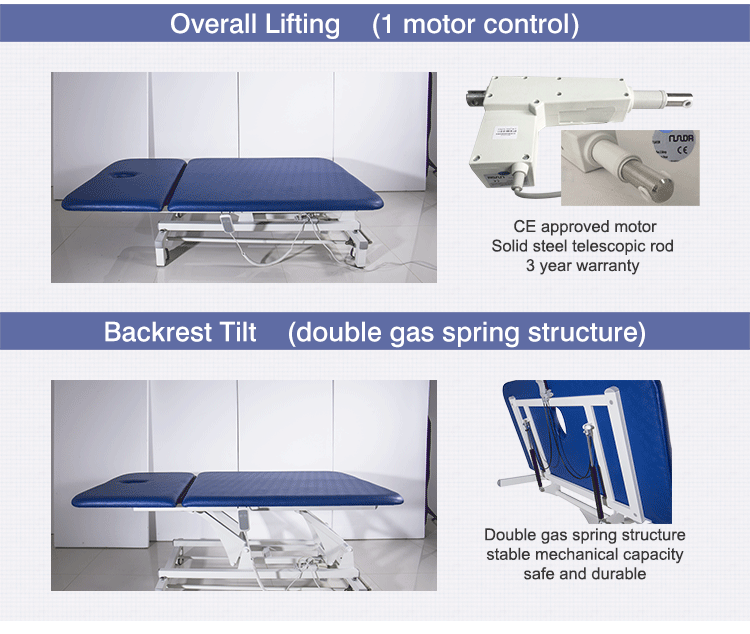 Do you like to go to a gym that is bare-bone with old equipment lying around? No, of course not. Likewise, a physiotherapy clinic must be equipped with adequate rehabilitation and fitness equipment. That includes a physiotherapy bed. A physiotherapy bed is an absolute essential when it comes to quality-deliverance. It also cuts back on the total duration of your treatment process.
Yet, without a proper physiotherapy table or bed, it is impossible to achieve all the preventive and rehabilitative targets.
is one such equipment that allows doctors and patients to implement and receive treatment respectively with ease and efficiency.
From a therapist point of view, a careful selection of a physiotherapy bed goes a long way. Where it should have a sturdy built with no compromise on quality, it should not have a hefty price tag. A physiotherapy table that delivers functional versatility without taking up too much space of your clinic may seem too good to be true. But it is a reality delivered by DongPin. Our company specializes in the manufacture of professional treatment tables. 15 years of experience is a loud advocate of our consistent hard work and diligence in this field.
At DongPin, the designer team understands the significance of catering to the patient\'s wellbeing and trust during a physiotherapy session. That is why our physiotherapy beds have a durable structure and a sturdy design. The patient is completely relaxed while the doctor performs hands-on manual therapies. The innovative designs of physiotherapy beds by DongPin enable the doctor to effectively manipulate different body positions to deliver pain-relieving massages and treatments for injuries without compromising the patient\'s safety and comfort levels.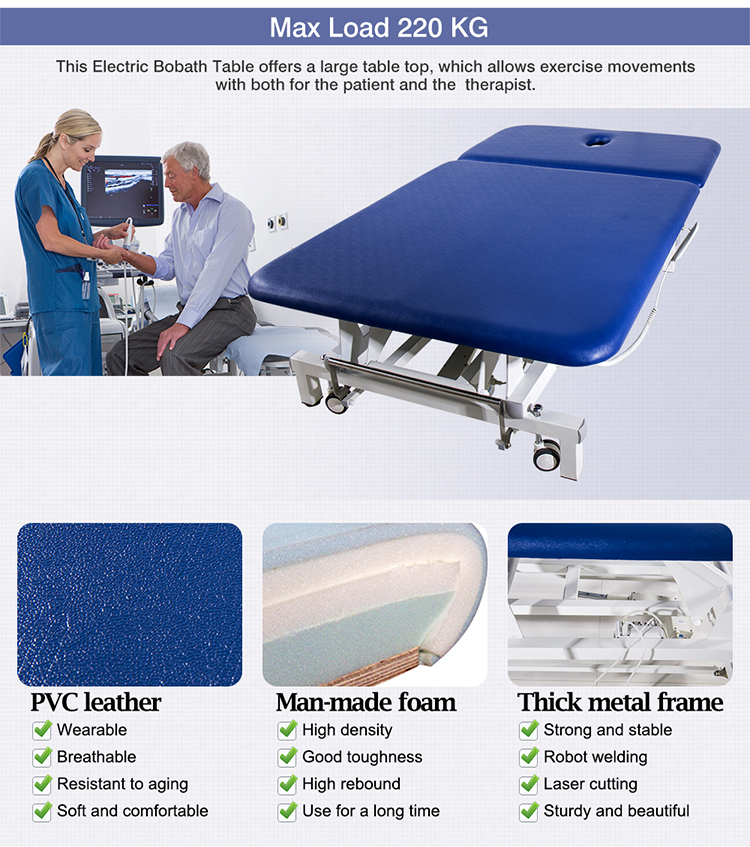 Why should you choose DongPin Physiotherapy Treatment Bed?
DongPin Physiotherapy Treatment Bed design DP-S805 is touted for its ergonomic design. The adjustable table is made of solid steel that is cut by laser and weld by robots that are precise and exact in their function. It gives a beautiful finish to the structure as well as adds to standardization value.
The DongPin Physiotherapy Treatment Bed is equipped with two motors that control the central and overall lift. The solid steel telescopic rods can endure a thrust of 8000N. It adds to the stability and safety of the entire structure of the treatment table.
DongPin Physiotherapy Treatment Bed utilizes foam injection technology.
Some of the advantages of using foam injection include:
· It imparts bedding solution in a single piece. It delivers a smooth surface and good shape to te treatment bed.
· It enhances the comfort level for the patient because the bed surface is flat yet soft.
· The technology is cost-effective and durable solution for the consumer. The production efficiency is enhanced with foam injection technology.
· Though tough, the foam of the physiotherapy bed has a good rebound so it does not cause any discomfort to the patient.
· With PU/PVC cover, the bed delivers a breathable surface to lie upon. Soft yet resilient, the exterior of the DongPin Physiotherapy Treatment Bed remains ageless with enduring comfort levels.
· With no seams, the surface of the bed is convenient to clean and maintain even after infinite use.
With a load-bearing capacity of 150 kg of weight, the DongPin Physiotherapy Treatment Bed undergoes quality check at multiple stages of production. Besides being obligatory physiotherapy equipment, DongPin Physiotherapy Treatment Bed is a multipurpose gear for aesthetic, medical and beauty clinics as well.